Traveling comes with a lot of benefits. It can help you grow as a person, when you learn more about different cultures and people. Traveling with family or friends can help strengthen your bonds and bring you closer together. But traveling comes with its downsides. Delayed or cancelled flights, long lines at the airport, going through security can be stressful and frustrating. Fortunately, many airports today have improved their amenities to make your stay more comfortable.
Here are some of the best airports in the world where you wouldn't mind spending a few hours:
Los Angeles International Airport
One of the busiest airports in the world (it was the world's fourth busiest and the United States' second busiest in 2018), Los Angeles International Airport or simply LAX sees more than 80 million passengers pass through it in a year. It is the biggest international airport on the West Coast, so it is a major international gateway to the United States, and also serves as a connection point for many people traveling abroad. You can imagine then that finding parking can be difficult. Fortunately, services like ParkON make it easy for you to find a parking space for your car.
ParkON's user-friendly and intuitive website allows you to search, select and reserve a parking space in under five minutes. They offer parking spaces in more than 200 parking lots close to all the major airports in the United States, including LAX. Finding airport parking will never be a problem for you again. The best part is that all their parking lots are safe, secure and well-lit, so you won't have to worry about leaving your car while you go off on your travels.
If you find yourself stuck at LAX waiting for your flight, there's plenty for you to do. The airport features several fine dining options, plenty of shopping, and even art exhibitions and installations for you to check out. If you want to relax and release the tension caused by delayed or cancelled flights, you can even get a soothing massage. Perhaps one of the best and most unique features of this airport is the PUP (Pets Unstressing Passengers) program, where you can spend time with friendly therapy dogs who can comfort you if you are nervous about flying.
Share this Image On Your Site
Please include attribution to https://www.parkon.com with this graphic.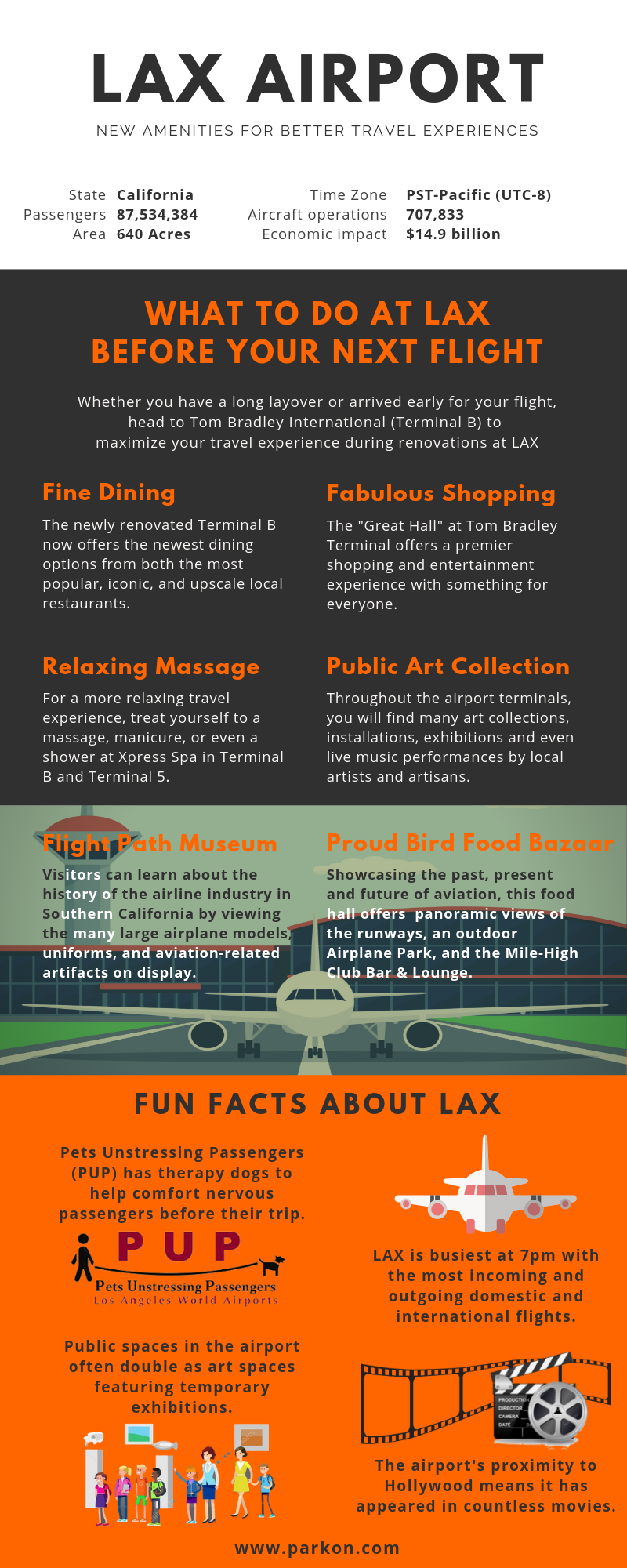 Copenhagen Airport
With more than 30 million yearly passengers traipsing through it, Copenhagen is one of the busiest hubs in Northern Europe. It is a haven for busy travelers who value speed and efficiency, with its clearly placed signs and efficient services.
Singapore Changi International Airport
Changi has consistently topped World's Best Airport lists for the past decade. It is the 19th busiest airport in the world, and is home to Singapore Airlines, Silkair and Tigerair. Going to this airport is like going to a five-star hotel, what with its gorgeous architecture and luxurious amenities. Some of its best highlights include movie theaters, 24-hour spas, a butterfly garden, a jaw dropping waterfall, and a wild corkscrew slide.
Two things any tired traveler would appreciate most are its cleanliness and efficiency. With an airport this beautiful and efficient, no one would mind waiting a few hours for their flight.
Incheon International Airport
Incheon International Airport in Seoul consistently ranks in the top five of various World's Best Airport lists. It is the 16th busiest airport in the world, and relatively new, having opened in 2001. Its best features are a wide variety of shopping and dining options, a Korean culture museum, and captivating cultural performances.
Hamad International Airport
Located in Doha, Qatar, Hamad International opened in 2014 and is home to Qatar Airways. It is one of the most luxurious airports in the world, sprawling over 5,400 acres of land and costing $16 billion to construct. It has been described as the most architecturally significant terminal complex in the world.
Most travelers hate getting stuck at the airport, for good reason, but if you ever find yourself faced with a delayed or cancelled flight, any of the airports on this list would make your wait so much more bearable.